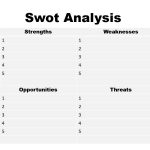 Much of our reader feedback suggests that we include additional templates in Word and PowerPoint. After all, a Excel presentation isn't as effective during management meeting presentation. Templatestaff's SWOT Analysis Template for Microsoft PowerPoint is available for download.
The SWOT (Strengths, Weaknesses, Opportunities, and Threats) tool has been a great support tool for both Six Sigma DMAIC and DFSS toolboxes. But I've found that it has an even better use with my sales team as the main competitive analysis tool.
Why copy and paste your already completed swot form in other formats only to paste it into a PowerPoint presentation when you can just complete it in PowerPoint from the start? Of course, this will depend on how you intend to use the template? If it's for strictly use in a lean six sigma effort, Excel would be fine; if you intend to use it for academic purposes, go for Word. You can find the SWOT template for Microsoft Excel here and the Microsoft Word version here.