New Excel Download Six Sigma Training Project Improving Laptop Reliability Now Available for Download
Folks we finally got the shop up and running but there are only two products to choose from: A six sigma project for improving laptop reliability is available for pdf purchase download here or you can get the complete project files here.
The project starts off like this:
Acme Laptop Company has been manufacturing and selling laptops for nearly a dozenyears. They successfully launched two flag ship models, the DEVICE, and the GADGET, keeping costs and after-service warranty expenses low and in control.
After launching their third model a little over a year ago, the WIDGET, their quality assurance team quickly summoned help from their in-house Six Sigma Black Belt as they could not figure out why there were so many customer returns in the first year since the product launch. In addition to the customer pain, the company was incurring hundreds of thousands of dollars of additional, unbudgeted expenses.
All design validation and mistake-proofing devices were put in place and all the WIDGET laptops met the stringent final QC requirements such as did the previous models but the WIDGET continued to fail early into the warranty coverage period, incurring additional costs for replacement units and freight to get the replacements to the customers.
How did the Six Sigma Black Belt approach the problem? What findings came about? What permanent corrective solution was put in place?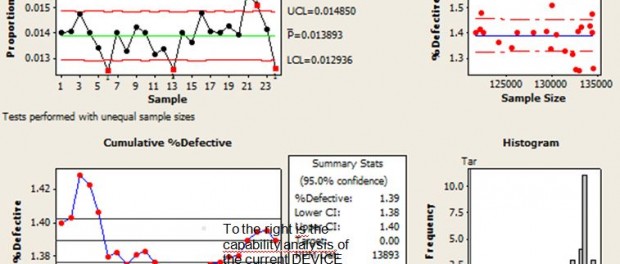 Six Sigma Tools Used
VOC, C&E Matrix, FMEA, SIPOC, Pareto chart, Graphical Data, Attribute MSA, Hypothesis Test using Binary Logistic Regression, Binomial Process Capability, Brainstorming, Control Plan, Control Chart – P Chart
Six Sigma Project Improving Laptop Reliability Now Available for Download